Techniques of Satire
The Case of Saltykov - Shchedrin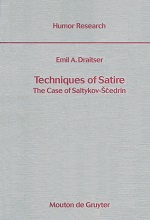 Techniques of Satire:
The Case of Saltykov-Shchedrin
(Approaches to Semiotics)
Hardcover

by Emil Draitser
©1994
240 pages
Publisher:
De Gruyter; First Edition
(February 1, 1994)
ISBN-10: 3110126249
ISBN-13: 978-3110126242


What evokes laughter? Why is something funny? As readers, we frequently pose such questions. Literary scholars more often than not, however, try to pass these questions on to their colleagues in other fields--to philosophers, psychologists and sociologists. And yet, the comic in literature possesses its own system of rules and devices, that is to say, the poetics of the comic. Emil Draitser analyses the devices that make literary works funny. Notions of the comic and of laughter advanced by thinkers as diverse as Bergson, Freud, and Koestler provide the necessary theoretical framework for his consideration of Saltykov-Shchedrin. The book also represents the first monograph in English on this major nineteenth-century satirist.

Reviews of Techniques of Satire